PROFILE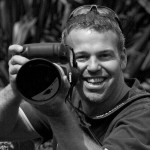 Pip developed a passion for photography as a schoolboy.
At the age of 9, his Grandfather taught him how to load a twin lens reflex and explained the 'Rule of Thirds', he never looked back.
His career as a professional preceded the digital revolution and he was fortunate enough to have been able to embrace the new technology during it's infancy in the mid nineties by working with some forward thinking publishers.
Pip enjoys shooting wherever his assignments take him, crafting innovative, creative and compelling imagery with meticulous attention to detail, enabling a distinguished client base to tell their stories.